In a world that often feels burdened with strife and sadness, there are shining beacons of hope that remind us of the power of compassion and the transformative effects of kindness. On June 10, 2023, the Chawla Charity Foundation had the honor of hosting a heartwarming lunch for the children at Dek Dee Orphanage in the serene San Sai District of Chiang Mai Province. This remarkable foundation, inspired by the vision of Manop Chaocharoen, extends a helping hand to ethnic orphans in the northern provinces of Thailand who may be vulnerable to the perils of drug addiction, human trafficking, and child labor. By nurturing these children in an
environment brimming with love and care, the foundation aims to provide them with the tools they need to flourish, receive an education, and eventually support themselves.
As the sun illuminated the clear June sky, the Steff of the Chawla Charity Foundation eagerly reunited with the children at Dek Dee Orphanage. Arriving at the orphanage promptly at eleven o'clock, we were greeted by the melodic strumming of guitars and the harmonious voices of children singing. Laughter filled the air as some of them frolicked in joyous abandon. Witnessing the children's exuberance upon seeing the provisions brought by the Chawla Charity Foundation filled our hearts with warmth and contentment. The images before us were a testament to the passage of time, as the little ones we had met previously had blossomed into young adults with mature minds and attitudes, nurtured by the love they had found here. A radiant smile graced the face of a young child, his senses alive with the tantalizing aroma wafting from the tables. Older children stepped up to assist their younger counterparts, embodying the spirit of unity and support that pervades the foundation.
The menu prepared for this special occasion featured steaming plates of rice, accompanied by delectable Tom Yum Squid, its thick sauce infused with fragrant spices. Stir-fried vegetables, tofu, and a medley of colorful fish added a burst of flavor and nutrients to the meal. And to cap it off, a delightful treat awaited them: chicken with a tantalizing Korean sauce, complemented by delicious, mouthwatering donuts. This luncheon event was about more than just introducing the children to new culinary experiences and ensuring their nutritional needs were met. It served as a beacon of hope, reminding them that they are not alone in navigating life's
challenges. Countless individuals care deeply about their well-being and stand ready to lend a helping hand, enabling them to grow up healthy and pursue happiness on their own terms.
Food is not merely sustenance; it is a fundamental need for all, regardless of age or circumstance. For children, it plays a pivotal role in brain development, and physical growth, and acts as a catalyst for learning and perception. Nourishing them with wholesome, nourishing food is an essential gift they deserve. With every bite, we believe that these children are growing into resilient adults who will face life's hardships with unwavering strength. We hope that this story of compassion and generosity inspires everyone who encounters it to recognize the tremendous power they hold to uplift and encourage children. It marks the first step toward their self-development and lays the foundation for a brighter future, not only for them but for society as a whole.
If you are moved by this tale and wish to contribute to social assistance projects like those spearheaded by the Chawla Charity Foundation, you can make a difference by donating funds to the following account:
Account Name: Chawla Charity Foundation
Bank name: Bangkok Bank Emporium Branch
Account number: 096-301-8734
See more details at www.chawlacharity.org
PHOTO GALLERY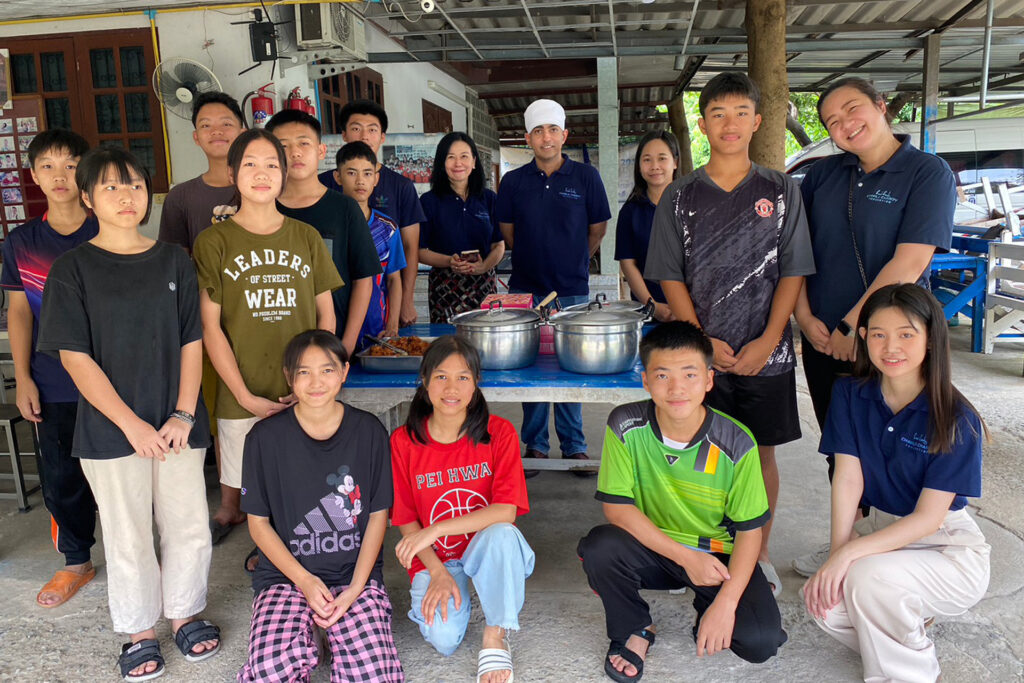 Chawla Charity Foundation
362/3 Charoenraj Rd., Wat Gate, Muang, Chaing Mai, Thailand 50000
Tel : +66 53 242 838 / Email : [email protected]
Office Hours
Monday – Saturday : 8.30 am – 5.30 pm