For the past several years, we have continuously organized social activities as well as campaigned for all employees in our organization including our valued customers to participate in various social activities with the consciousness of mindlessly sharing and giving. Whether donation in the form of financial support or essential items to those in need that definitely made an impact on someone's life. We always consider and give more attention to the donations people could actually use.
On 25 May 2019, we had the opportunity to visit the Boon Thong Orphanage to donate some money, essential items that are necessities, some Developmental Toys which help to provide the skills and nourishment for their growing minds such as arts and crafts set, cooking set, and dolls. We also hosted a lunch meal including dessert for children.
We were welcomed warmly by their volunteer staff and children as soon as we arrived at Boon Thong orphanage. We arrived there one hour early before lunch time, so we started the activity that day by participating in games, giving prizes to children. When it was time for lunch, children got into line and took a plate of rice, once all children were seated then we started to serve the delicious foods. The food we brought were "clear soup with egg tofu, minced pork and assorted vegetable", "deep fried chicken legs", and "colorful doughnuts". They were enjoying the meals, especially doughnuts! Of course kids like dessert. It was a lovely thing to see the smile on their face. This was what makes us love what we do and willing to support more children.
Boon Thong Orphanage is located at Mae Rim district, Chiang Mai. "Mae Nam Phung" is the key person of the orphanage who after the children. She is a fairy of children. Mae Nam Phung and volunteer staff love and care for these children 24 hours a day, 7 days a week, 365 days a year without any conditions. Not just only giving love, food and shelter to the children, but also supports the education of children according to basic education by the rules of the Ministry of Education as well as to build mindfulness for children to become quality human resources in the future.
We have told by Mae Nam Phung that there are about 30 children and those come from different provinces. They are between 3 up to 15 year of age. 90% of the children who come to the Boon Thong Orphanage to live have already lost their parents to difference reasons, some of their parents have been in jail for life, some of them are abandoned by their parents, and some of them were sexually abused by stepfather. That is why Baan Boon Thong therefore became the home that gave them a new life.
It is a fact that in our world today, there is a number of problems that occur with children. They have been in troubles such as family violence, abandoned by parents, and some were sexually abused by their own parents or step parents. By helping people in need through the foundation, no matter what you willing to give will enable them to have a better life.
Start a personal fundraiser and increase your impact with the support of family and friends to help support Chawla Charity Foundation programs in the hope of creating a better and brighter society for the world we live in today. To make donation, please transfer through the bank account details as follow:
Account Name: The Chawla Charity Foundation
Bank Name: Bangkok Bank, Emporium Branch
Account Number: 096-301-8734
Swift Code: BKKBTHBK (For Oversea donor only)
Thank you again for all you do for our organization, we could not do what we do without donors such as you. We look forward to volunteer work with you in the future. We, and those we serve, deeply appreciate your generosity.
PHOTO GALLERY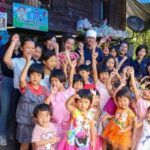 Chawla Charity Foundation
362/3 Charoenraj Rd., Wat Gate, Muang, Chaing Mai, Thailand 50000
Tel : +66 53 242 838 / Email : [email protected]
Office Hours
Monday – Saturday : 8.30 am – 5.30 pm